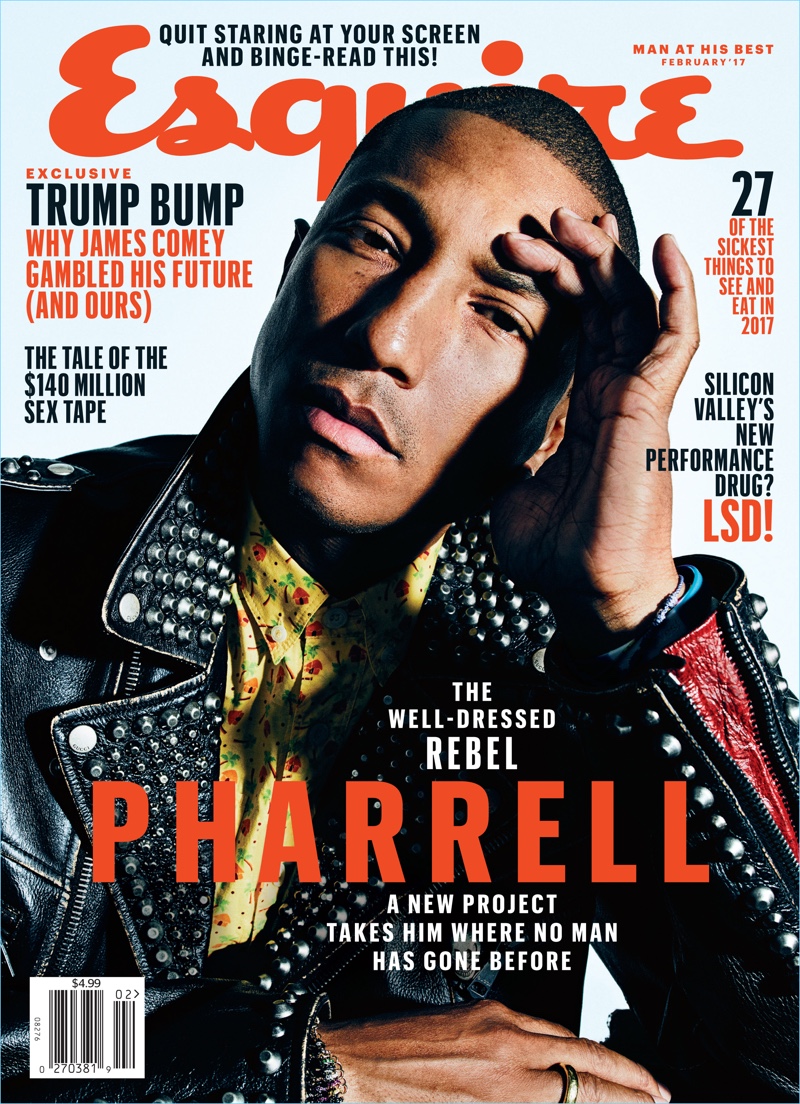 HIDDEN FIGURES producer Pharrell is on Esquire's February 2017 cover!!
 Pharrell speaks to how his feminist inclinations fueled him on his latest project, HIDDEN FIGURES. "I don't know what I could do, but I know if women wanted to, they could save this nation. If women wanted to, they could save the world."
                                                           HIDDEN FIGURES
                                The movie's Official wide release is today, January 6, 2017!
Via Esquire:
"Pharrell's feminist inclinations fueled his latest endeavor, Hidden Figures, a film he worked on as a producer and wrote original music for. The movie tells one of those stories from the course of American history that you can't believe has gone unheard for so long. Directed by Theodore Melfi and starring Taraji P. Henson, Octavia Spencer, and Janelle Monáe, it raises a toast to three African-American women (Katherine Johnson, Dorothy Vaughan, and Mary Jackson) who worked at NASA's Langley Research Center in Virginia, where they played pivotal roles in America's space race against Mother Russia in the early 1960s. Without their breakthroughs in mathematical formulas, computer programming (then in its infancy), and engineering, astronaut John Glenn may never have made it into orbit—nor would he and his capsule have splashed down successfully near Grand Turk island."
 "For decades, their story wasn't merely marginalized; it was unknown, not even a blip on the radar. No one was listening. "The female contribution to anything significant has always been historically dismissed or discounted, or often erased," Pharrell says. To a degree, the women were unseen and unheard within the white management structure of NASA, even while they were in the midst of making the calculations that would eventually send American astronauts to the moon. The movie has a series of scenes in which Henson, playing Johnson, has to totter frantically in high heels to a building far away from the main Langley war room because no one thought, in those last days of segregation, to provide a nearby restroom for black women. "That's how rigged the matrix was," Pharrell says."
A number of factors drew Pharrell to Hidden Figures,  celebrating the unsung accomplishments of women of color was not his only focus. The story takes place in a part of Virginia that's about twenty miles from where he grew up and therefore gave Pharrell a personal feel for the movie.
We all will be able to share in the treasure that this film will deliver on screens across the world tomorrow!
                                                         HIDDEN FIGURES
Director:  Theodore Melfi
Screenplay by:  Allison Schroeder and Theodore Melfi (writing credits not final), based on the book by Margot Lee Shetterly.
Producers:  Donna Gigliotti, Peter Chernin, Jenno Topping, Pharrell Williams, Theodore Melfi
Cast: Taraji P. Henson, Octavia Spencer, Janelle Monáe, Kevin Costner, Kirsten Dunst, Jim Parsons, Mahershala Ali, Aldis Hodge, Glen Powell & Kimberly Quinn.
SYNOPSIS
HIDDEN FIGURES is the incredible untold story of Katherine G. Johnson (Taraji P. Henson), Dorothy Vaughan (Octavia Spencer) and Mary Jackson (Janelle Monáe)—brilliant African-American women working at NASA, who served as the brains behind one of the greatest operations in history: the launch of astronaut John Glenn into orbit, a stunning achievement that restored the nation's confidence, turned around the Space Race, and galvanized the world. The visionary trio crossed all gender and race lines to inspire generations to dream big.
                                               HIDDEN FIGURES Official Channels
                                        SITE |FACEBOOK |TWITTER|INSTAGRAM
                                                                #HiddenFigures