Stretch marks deserve to be celebrated because they are a part of you.
We live in a world of [perceived] perfection, and everyone is forced to fit into a mold that is unrealistic. In this perfect world with the heightened scrutiny of beauty standards, we almost forget what the normal body looks like. The average body has stretch marks – somewhere.  Stretch marks appear when the body goes through a rapid change in size and the production of collagen is interrupted. You're then left with scars, or beauty marks, depending on how you look at it.
For a long time, I hated the fact that I had stretch marks. I was ashamed. I felt like they threatened my beauty, and I went through desperate measures to hide them. Now, I'm learning to love them along with the rest of my perfect imperfections. The truth is, my weight fluctuates, and as result I have earned my stripes on my arms, breasts, and booty. Some women have had the glory of creating life, or the ingenuity of creating life-changing habits. Regardless of how you got them, you should celebrate your stretch marks because they are a part of you.
(via giphy.com)
Stretch marks are a part of the beauty and fashion world.
Last week, it became news that UK-based retailer Missguided took a major stride into breaking barriers. Along with ASOS, who avowed early summer to stop the madness. They furtively announced that they would no longer modify or photoshop out "imperfections" of the models by using unedited photos. If you were to go to either website, you'd now see models demonstrating clothes along with their stretch marks.
Missguided's creative manager, Samantha Helligso, believes that: "as a brand, we feel we have a strong sense of social responsibility to support young women and inspire confidence. So we're on a mission to do just that by showing our audience it's okay to be yourself; embrace your 'flaws', celebrate individuality, and not strive for what the world perceives as perfection. She also adds, "By showing imagery that's real and authentic, we want to show it's more than okay to be yourself. All you have is what you've got; so own it every day."
"Show me somethin' natural like ass with some stretchmarks." – Kendrick Lamar 'Be Humble'
Along with ASOS, Missguided was welcomed with warm arms of support throughout the internet and social media; from girls and women alike who felt empowered or supported through this recent change of policy. However, just yesterday, social media posts for Missguided went viral again but under different circumstances.
From photoshopping out stretch marks to photoshopping stretch marks on the models; it seems as things have come full circle. In the recent events, one thing is apparent – everyone loves something that's relatable; and that also allows them to accept themselves.
Stretch marks are art!
Just check out these influential artists who have went viral while helping to make stretch marks become more than a trend. According to Zinteta (Cinta Tort Catró) and Sara Shakeel, stretch marks are art! Both artists have redefined the connotations that come along with stretch marks in their own creative way.
Meet @zinteta.
Zinteta, a 21-year-old Barcelonan artist, created a campaign dedicated fully to body positivism as she turned stretch marks into illustrations of the rainbow.  Through her heroinism of her "artivism" [when art meets activism] she proves that "all bodies are equally valuable." Zinteta goes on to say," It is very important that people are conscious that we are all different. That our bodies are different, but everyone has beauty and their own essence. We need to fight against the aesthetic pressure and accept once and for all that we are different; and in diversity there is richness." The viral artists also mentioned that while dealing with her own insecurities of her body, it inspired her and her work.
(Photo Credit: @zinteta/www.instagram.com)

"Over the years, and after internal reflection, I saw that if I did not accept anything about my body – hair, stretch marks – I could never love or accept me."  – Zinteta (Cinta Tort Catró)
Stay updated with her journey and art that dives into the most controversial topics like misogyny and racism, by subscribing to her Instagram where she launches most of her campaigns [@zinteta].
Meet @sarashakeel.
Another heroine taking the internet by storm is Sara Shakeel; former dental student and Pakistani-based artist by hobby who transforms stretch marks into shimmers of glitter.  Her goals were to bring body empowerment to the forefront with images that celebrated cellulite, stretch marks, and other imperfections. "Stretch marks are something I relate to on a very personal basis", says Sara. Who explains that unexpected weight gain provided her with "stripes"; and with her images she wants to "fill them up with something pretty."
(Photo Credit: @sarashakeel/www.instagram.com)

"I was thinking why anyone would be interested in my concept of stretch marks turned into glitter or crystals!!! My god I was so wrong! Amazing people and women are already doing such an amazing job with representing these stripes and cellulite." – Sara Shakeel
Stay updated with her journey and art that inspires you to see beyond what's actually there by subscribing to her Instagram where she may also feature a picture of you as artwork [@sarashakeel].
Stretch marks are symbols of perfection.
As cliché as this may sound, especially if you've already heard this expression; bear with me when I say and reiterate that: "God makes no mistakes; you are fearfully and wonderfully made."  That's right; you're already perfect, even if you choose not to believe it. As you gain confidence and self-acceptance, you'll begin to appreciate what you have and who you are. You'll even inspire others to do the same for themselves.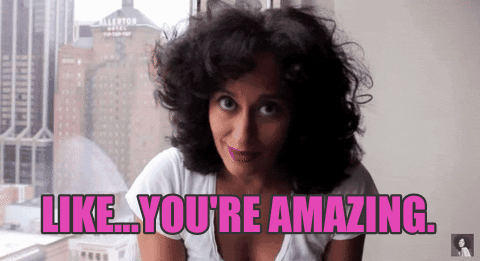 (via giphy.com)
It's already proven that today's societal beauty standards are powered by our own insecurities; but we can control how things are marketed to us. When we truly feel good about ourselves and our perfect imperfections, we inspire these advertisements and idealistic campaigns to embrace the same. Along with Aerie, Target, ASOS, and even Misguided; brands are beginning to change how they portray models to unrealistic scrutiny along with us as customers. And as we promote self-love, we'll change the world and the views of what's acceptable in beauty.
Wear your stripes in pride. They add on to your beauty!
                                                                 (via giphy.com)