If you haven't heard the news by now – FOX's "Empire" is the ish.
After its small screen debut, fans couldn't get enough of Lucious Lyon (Terrence Howard) and his "straight hood" wife Cookie (Taraji P. Henson). Not only did the show score in ratings for the network in years, it's already been picked up for a second season and we're just two episodes in.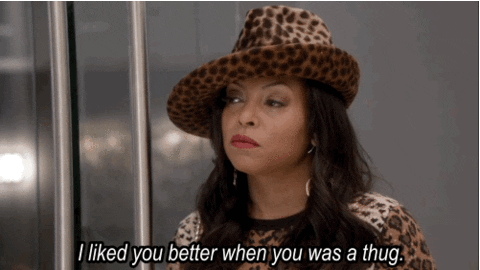 The story arc covers a musical family with Howard as the CEO of his own company. He soon learns that he's been diagnosed with ALS (Amyotrophic Lateral Sclerosis). He then decides to groom one of his three sons to take over the company long after he's gone.
Out of his sons; the oldest is a graduate of Yale University, the middle prefers the company of men for his love life, and the youngest comes off as a talented yet arrogant child. Hey, it makes for great plot lines.
During the 2015 Winter TCA Press Tour (Jan. 17), the cast talked about the show created by Lee Daniels of "The Butler."
It was revealed there that Howard wasn't originally the person in mind to take on Luscious Lyon. Good-ole Nino Brown aka Wesley Snipes was first considered.
Henson already explained that she wanted to work with Howard given their working chemistry and clearly, the Academy Award nominated actress was spot on.
She said:
"I was like, 'Lee, this is an incredible project. I think Cookie is amazing. I would love to play her. If you can get Terrence, I'm all about it. If not, good luck with the project!'"
She also  pitched herself for the role before Daniels offered it to her:
"Taraji says, 'I really want to do this role with Terrence Howard,' and I was like, 'You ain't got the job yet,'" Daniels recalled. "And then, I was like, 'Danny [Strong], that's Cookie!'"
Because the show is brilliantly written and covers great story lines, Howard gave reservation about accepting his role as Luscious.
due to the scene where his gay son was put into a trashcan. What was great about the scene was that it actually depicted a reality that some men have experienced. Reportedly, that scene represented a part of Daniels' own life.
Howard explained it was challenging for him to shoot the scene given the emotionalism it needed:
Lee Daniels was that little boy and his father put him in the trash can. Watching Lee while we were shooting this — at one point, he had to look away because he was in tears, because he was facing it. His mother was also there on the set. It was cathartic for Lee.
He added:
Lee would not allow me to show any compassion in the scene. He reminded me how much Lucious loved little Jamal, but my need for the boy to be a strong man was greater than my need to show my love to him. That was a difficult scene.
"Empire" airs Wednesday nights on FOX at 9/8c.