Desserts are life!
Seriously, desserts can change the mood of anybody…almost.
They are perfect as a snack, maybe a sweet craving, and even after a good home cooked meal.
Desserts are staples for meals especially around the holidays, but, these unusual desserts I'm about to share with you, may make you think twice about what you consider, a "dessert."
I even cringed at some, but hey, some individuals like what they like. (Keep a barf bag close by if you have a weak stomach.)
Deep Fried Candy Bars (Scotland)
These fried chocolate bars, aren't too "out there" since you can find them at most carnivals, but it did make popular rounds in Scotland.
Chocolate Covered Crickets (Thailand)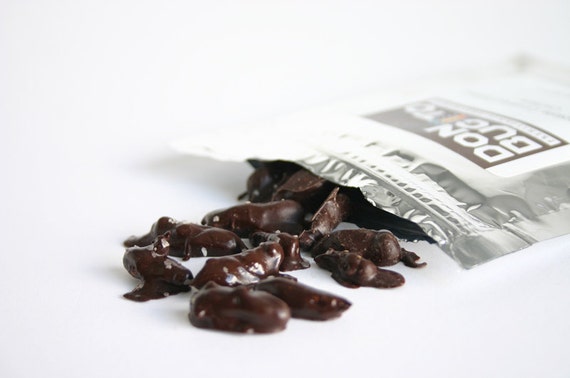 Now, my skin MIGHT have crawled seeing this delicacy. If you are brave enough to try it, then you may like the crunch coupled with the sweet coating, to serve all of your sweet cravings.
Ohagi (Japan)
These little balls of sweetness, are made with rice soaked for 6 hours and sweet azuki paste. Afterwards, the paste is packed tightly around the rice, creating the ball formation.
Picarones (Peru)
Picarones, are a Peruvian based dessert originating in Lima. The main ingredients for these are: sweet potatoes, squash and topped with Chancaca Syrup.
Jalebi
As a famous dessert in South Asia, West Asia, North Africa, and East Africa, this dessert packs a sweet punch. It's made simply, by deep frying Maida flour batter in the form of a circle, or pretzel then soaked in sugar syrup.
Other ingredients include ghee butter, saffron and sugar.
Halva
Another dessert that stretches across a numerous amount of places, by making its rounds from the taste, is this traditional sweet. It's found in Greece, Israel and Middle East. To add, it's mixed with honey and sesame seeds, or sesame seed paste, and sugar.
Wasabi Ice Cream (Japan)
Whoever created this, must not have thought wasabi was that strong.
Most people can't tolerate the kick of wasabi, let alone, hold back tears, if it's not eaten with something in addition to it. If you can enjoy a good, sweet, and spicy combination, then have at it.
Although these are a few of many unusual desserts, you can get a head start by testing each one of these out. Some may be surprisingly good, others not so much. Either way, expand your horizon in the world of food, and enjoy! Why not take a risk one time?
Happy eating!