Viola Davis is making historical impacts beyond the acting world.
When Viola Davis isn't making history as an African American actress, accepting Oscars and any other awards to add to her already large collection of achievements; she is making an even greater impact on her daughter.  One of her most important teachings to her daughter includes to not "grow up wanting someone's everything". This taught self-love and acceptance includes natural hair, something Viola struggled with for a long time. But in 2012 on the Oscar's Red Carpet, Viola voiced an important statement as she wore her natural hair. "I wanted to be bold about who I am. I wanted to step into who I am".  And she's giving her 6-year-old daughter, Genesis, a chance to do the same.
Your [natural] hair is a part of you.
Contrary to India Arie's declaration of not being her hair, Viola begs to differ. "I felt like every time I put on a wig, that I was apologizing for who I was. Being a dark-skinned woman [with] very curly hair, I felt like I was hiding it. I didn't want to do that anymore, and I felt like [2012] Oscars was the perfect time to do that. So I stepped into who I was".    Viola truly exemplifies for her daughter what it means to not wear a wig. More so, whenever Genesis wants to dress up as any character, she really pushes for her to sport her natural hair. She recently shared with Yahoo Lifestyle that she tells her daughter, "You gotta wear your hair exactly the way it is. You can be Wonder Woman, but you gotta be Wonder Woman with your hair. You can be Elsa, but you gotta be Elsa with your hair".
Honey, you are enough.
The Academy Award-winning actress who once "suffered from low self-esteem for so long"; wanted her daughter to know what she wishes someone would've told her. "I am enough". In addition to teaching her daughter to be proud of her natural hair, she also reinforces its beauty and uniqueness through positive books like: 'I Love My Cotton Candy Hair' and 'I Like Myself'. Viola instills in her daughter that she can do anything, "if you start with the palette of loving who you are". Maybe even win a beauty pageant, and compete for Miss Universe with an afro.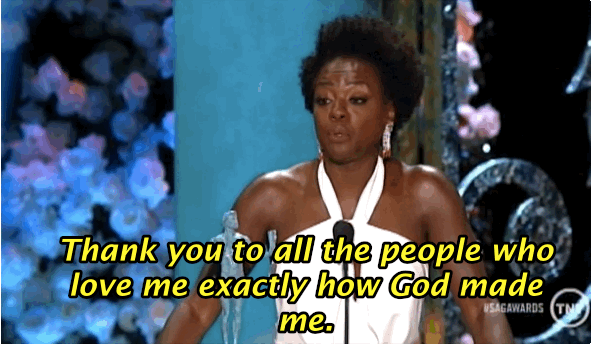 giphy.com
When all else fails, it's what's inside that counts.
Another lesson the 51-year-old star teaches her daughter is to invest in herself. It has become morning routine to recite what's the most significant.  She tells her daughter, "Remember your heart and your head. Those are the two most important parts of you".   She explains her reasoning behind it all: "I think by the time a woman reaches the age of 18 or 21; she has invested so much in the physical and not enough in the emotional. And then by the time [you] reach middle age, when a lot of this fails; I think that we are at a loss because we have done no other investing. There's no other investing in your: soul, emotional health, strength, power to say 'no', power to create boundaries. That then, what happens, is it stops us. That's why I tell Genesis the two most important parts of you are what's inside of you. Your heart, and when your heart fails, your head".  And that's in addition to her reciting the French novelist, Émile Zola.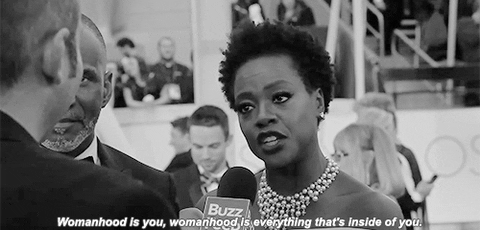 giphy.com