#WinterIsComing; Prepare your skin for the harsh season approaching.
Fall has got to be one of the best times of the year… You're no longer worried about that ideal summer body, and all of your favorite holidays are nigh, back to back. You get to wear your favorite hats and hoodies with no judgement because: "Winter is coming". You're finally able to relax on a mini [vacation] break, and take some time to your self or with loved ones. No matter your expectations from the changing seasons, your skin changing for the worst shouldn't be one of them.
You deserve flawless skin during the winter fray.
But with the weather's new harshness of cold and dry air, your skin is left vulnerable if you don't take the precautions of restoring and retaining its natural oils. Fall also happens to be the perfect time to start implementing new regimens to your daily routines to help protect your skin through the most aggressive times of the year.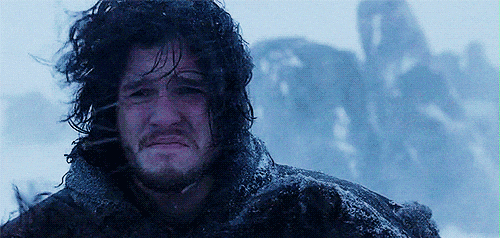 (Game Of Thrones/HBO)
Here are a few tips to prepare you for the fray, and keep your skin healthy and glowing through the harshest winter, Maester approved (Game of Thrones reference for the resident experts. They're literally equivalent to Google):
1. Ditch your summer routine and products.
Continue to use SPF because you still need protection from the sun even in the winter. But ditch your thin lotions and replace them with heavy creams for deeper penetration. It's suggested that you moisturize while your skin is a little damp to help seal in moisture.
Recommends: Nivea Moisturizing Cream ($8) or Good ol' Vaseline ($3 — $5) *Target
2. Become anti hot water.
That's right! Say goodbye to hot temperature showers that would make Hell jealous, and say hello to lukewarm bathing. Hot water causes the skin to lose its moisture and become extremely dry.
Recommends: Short showers, no longer than 10-minutes, with luke warm water.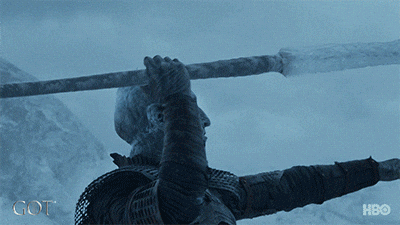 (Game of Thrones/HBO)
3. Change your soaps.
Use discretion with choosing the types of soaps you use when bathing. Try to avoid soaps that contain any harsh ingredients that will strip your skin of its natural oils, like: deodorants, fragrance, antibacterial and alcohol.
Recommends: Dove's [Sensitive] Skin Bar Soap ($3), Neutrogena Transparent Facial Bar ($4) or Cetaphil Cleanser ($9) *Target
4. Secure more lipids.
Even though you've probably never heard of lipids, your skin needs them as a barrier to keep the water in. Since we lose the most lipids during the winter, try to load up on products that contain an amount of lipids.
Recommends: Using Ceramides like CeraVe Moisturizing Cream ($11), Curel Hydro Therapy ($11) or Cetaphil Daily Hydrating Lotion ($11) *Target
And my favorite,  made with 100% pure cocoa and shea butter, it's key for dry winter skin: Vaseline Intensive Care Smoothing Body Butter ($6 for 8oz) *Target
5. Add a humidifier to your life.
As mentioned before, winter causes dry cold air outside, and while you're inside, you're exposed dry air from the heat. Invest in a humidifier to add some moisture back into the air and your skin simultaneously!
Recommends: Safety 1st 360° Ultrasonic Cool Mist Humidifier ($21.99), Pure Enrichment — Ultrasonic Cool Mist Humidifier ($39.99), Crane Drop Ultrasonic Cool Mist Humidifier ($49.99) *Target
6. Drink plenty of water!
Lastly, and most importantly hydrate constantly to moisturize your skin from inside to out!
Recommends: Your standard 8 glasses/1gal a day.
Your skin [and hair] will be on fleek!
Follow these simple tips, and you'll protect yourself from having skin like a White Walker, (Game of Thrones reference for the creepy but magical creatures of the ice who devour the living to transmute them into their army).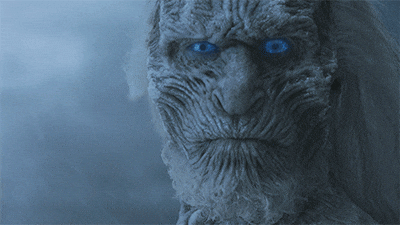 (Game of Thrones/HBO)
Enjoy your fall and winter seasons, while expecting your favorite aspects about your favorite time of the year. And for the Game of Thrones fans, [the final] season 8 filming began this past October, so expect a new season soon. Happy fall! #WinterIsComing.