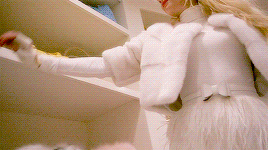 Will there be a white winter? We sure hope so, there's nothing like dressing for snow. "You can't wear white after labor day!" Blasphemy!, The best ensembles come in winter white and this winter Kontrol will provide you with the perfect winter white looks to rock for the holidays.
Whenever someone mentions wearing white multiple white shades come to mind. But, we don't mean cream, ivory or off-white. We mean winter white only! Nonetheless, wearing white can be a combination of multiple shades of white, but winter and white is the best pair. This season in fashion its all about palazzo pants, pant-suits, sweaters and the ultimate wool coat. And, in white, the looks are better. Tis' the season to the best season of fashion thus far.
We approved of these white after labor looks below.
The Coat. Long That Is.
This look can be purchased at Macy's or Nordstroms and be sure to provide you with style and warmth. Long winter white coats for the holidays screams sophistication.
Ugly Sweater? I Think Not!
What's a holiday season without a sweater? Maybe, just maybe this is the one ensemble that is perfect for all shades of white.A stylish white sweater on Christmas day is perfect for those rips denims you've been dying to wear!
Palazzo pants
The best ensemble for white is the flare, its all about the flare. Palazzo pant is perfect for the perfect outing. And, is always best in white.
The Pant Suit a Timeless look.
For the holiday nothing compares to the ultimate ensemble the pant-suit. From long, to wide leg and ankle length, the right blazer and pant combination will give you the complete look.
So, on your naughty and nice list don't forget to include some of Kontrol's favorite winter white looks just for you!
What will you wear for this white winter?