Fashion month blazes on! With two spectacular fashion weeks, New York and London now under our belt. It's hard to keep up with all of the fashion that came down the runway. Before we gear up for Milan's fashion week, here's a rundown of the hottest trends from the London shows.
Pastels
Look forward to filling up your closets with the softer side of things come Spring Summer '18. Pastels were a major focus during London's fashion week, we've seen designers from the New York shows gravitate towards this trend as well. To stand out in this whimsical style category, accessorize! If going full-color blocking isn't your aesthetic, try adding a pop of color to an otherwise muted color palette instead.
Panels And Patches
If embroidery and patchwork detail is your thing, then this style trend is for you. Roberta Einer and Haizhan Wang were just a few of the collections that featured bold patchwork and paneling in their lines. This is a DIY'ers dream! Get creative, look for iron-on patches and scrap fabric leftover from other projects and recreate some of these runway looks.
Deep Cuts
Richard Malone, Marta Jakubowski, and Christopher Kane featured asymmetrical cuts and slits throughout their lines. Grab a pair of scissors and start cutting! Start with an old pair of jeans or a t-shirt until you've perfected the look. Think outside the box, try cutting off one pant leg while leaving the other long. Or cut a blouse in the middle as opposed to at the neckline for a unique twist.
Drawstrings
Be prepared to see a lot of drawstrings this Spring Summer '18. If it can be pulled, tied, or cinched its fair game! Take athleisure up a notch, and remix raincoats, joggers, and jackets by adding drawstrings. Pair wooden toggles with rope like string to add contrast to lighter fabrics.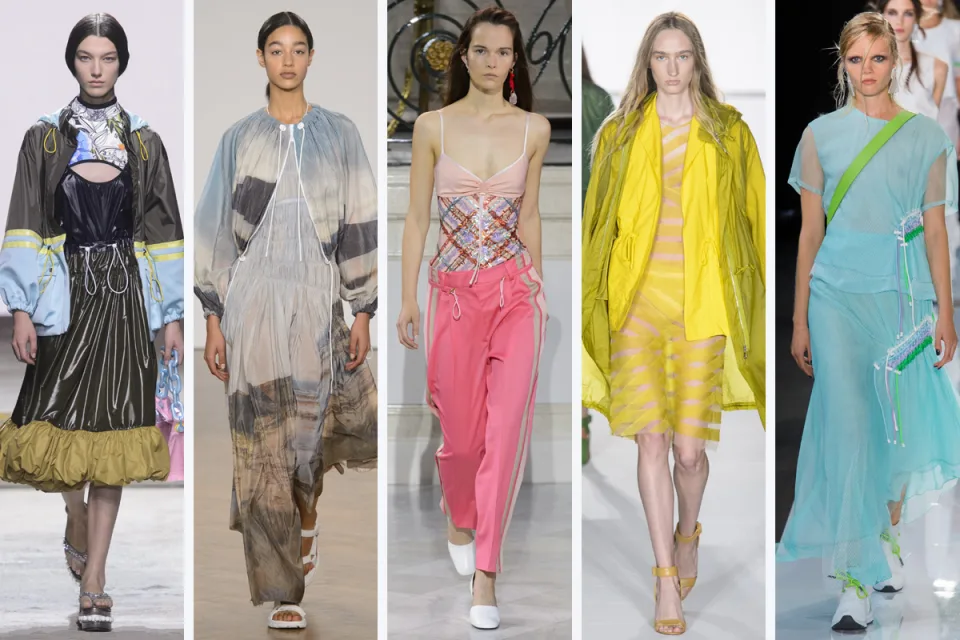 All Over Sheer
Another trend we've seen on repeat at both the New York and London shows is sheer fabrics. If bearing it all is too risque for your taste, try layering fabrics to create a peek-a-boo look as an alternative.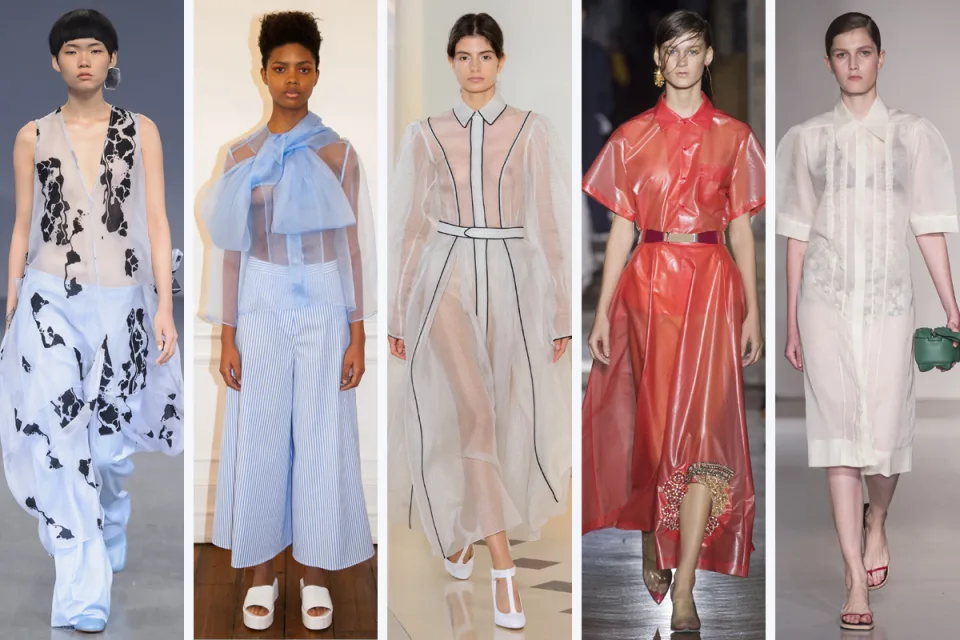 Ruffles
Tiered, delicate, and fluttery. Ruffles dominated the runway at London fashion week. Look for peplum skirts and lightweight blouses, for a more sophisticated take on this playful trend.