Foodie Friday
Valentine's Day has came and gone, but I'm sure that chocolate didn't leave so quickly. Maybe you were super spoiled this Valentine's Day, and had a chocolate factory afterwards. Maybe not. But, if you are wondering "What do I do with all of this chocolate?!" I'm about to fill you in with a few crafty, yet tasty ideas.
Recipe from Babble.com: (Click food title above)
Makes: 12 cupcakes
Ingredients
Cupcakes:
1/4 cup coconut oil
1/2 cup dairy-free chocolate chips or chopped chocolate
3 eggs, separated and at room temperature
4 tablespoons plus 1 tablespoon honey or other natural sweetener
Ganache Frosting:
1 cup dairy-free chocolate chips or chopped chocolate
1 cup almond milk (or any dairy-free milk)
1/2 cup coconut oil
Chocolate chips for decorating (optional)
Directions:
Preheat the oven to 350 F, then line a muffin tin with paper liners and set aside.
Melt the coconut oil and chocolate together in a small pan, then transfer to a large bowl and let cool slightly.
Beat the egg yolks and 4 tablespoons honey until light and thick, then fold into the chocolate mixture and clean out the mixing bowl. Beat the whites and 1 tablespoon of honey until stiff peaks form, fold into the chocolate mixture in 3 additions.
Scoop batter evenly into the prepared muffin tin and bake for 18-20 minutes. Transfer cupcakes to a wire rack to cool completely (cupcakes will crack and settle slightly).
Prepare the frosting: Place the chocolate in a medium bowl; set aside. Heat the almond milk and coconut oil in a small saucepan until hot. Immediately pour over the chocolate and let sit for 5 minutes.
Whisk until smooth and well blended. Refrigerate for at least 2 hours.
Use an electric mixer to beat to a frosting-like consistency; pipe atop the cupcakes. Top each cupcake with a chocolate chip, if desired.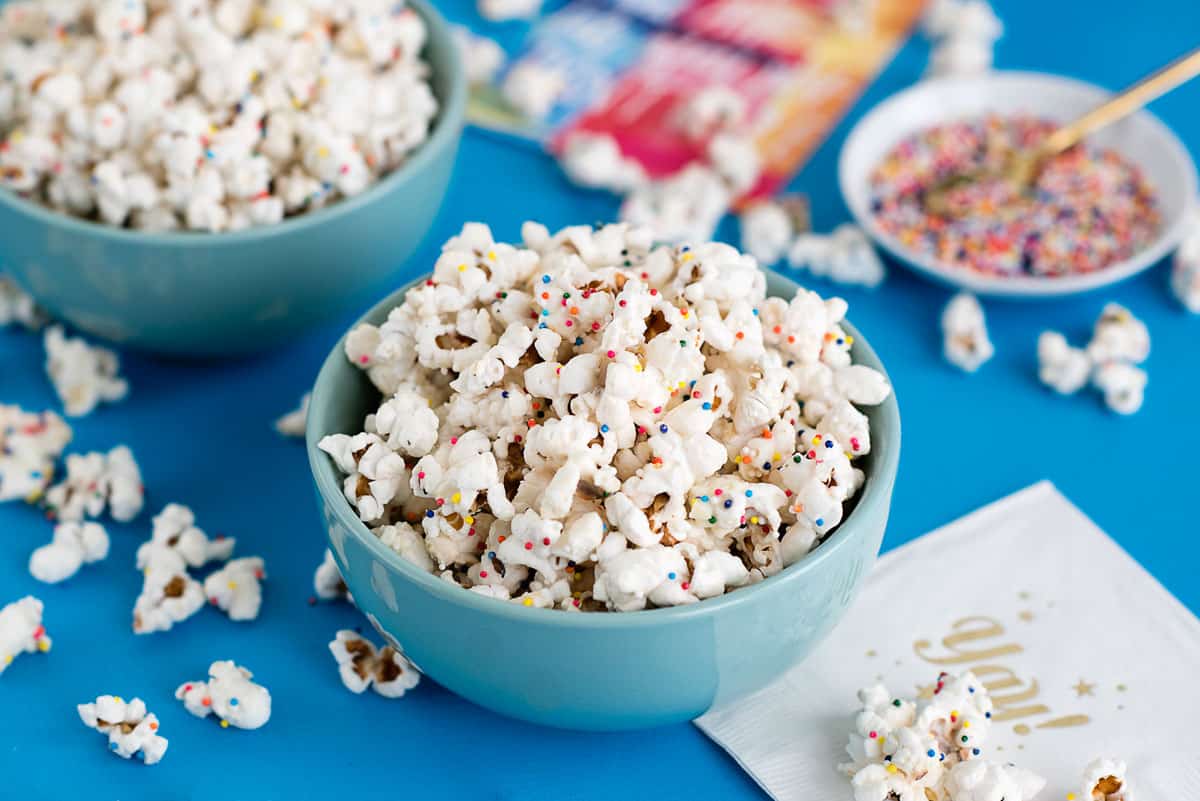 Author: Kelly Egan Prep Time: 5 minutes Cook Time: 2 minutes Total Time: 7 minutes Yield: 12 Category: Snack Method: No bake Cuisine: American
Ingredients
12 cups kettle corn or other popped corn (about 1/4 cup kernels)
1/2 cup white chocolate chips + 1/2 teaspoon shortening or white chocolate candy melts or 7 ounces vanilla almond bark
2 tablespoons sprinkles
Instructions
Melt your choice of white chocolate in the microwave or double broiler.
Pour chocolate over popcorn, tossing gently to coat.
Evenly spread popcorn onto a baking sheet and add sprinkles.
Let sit until dry (at least 15 minutes, ideally 2-3 hours).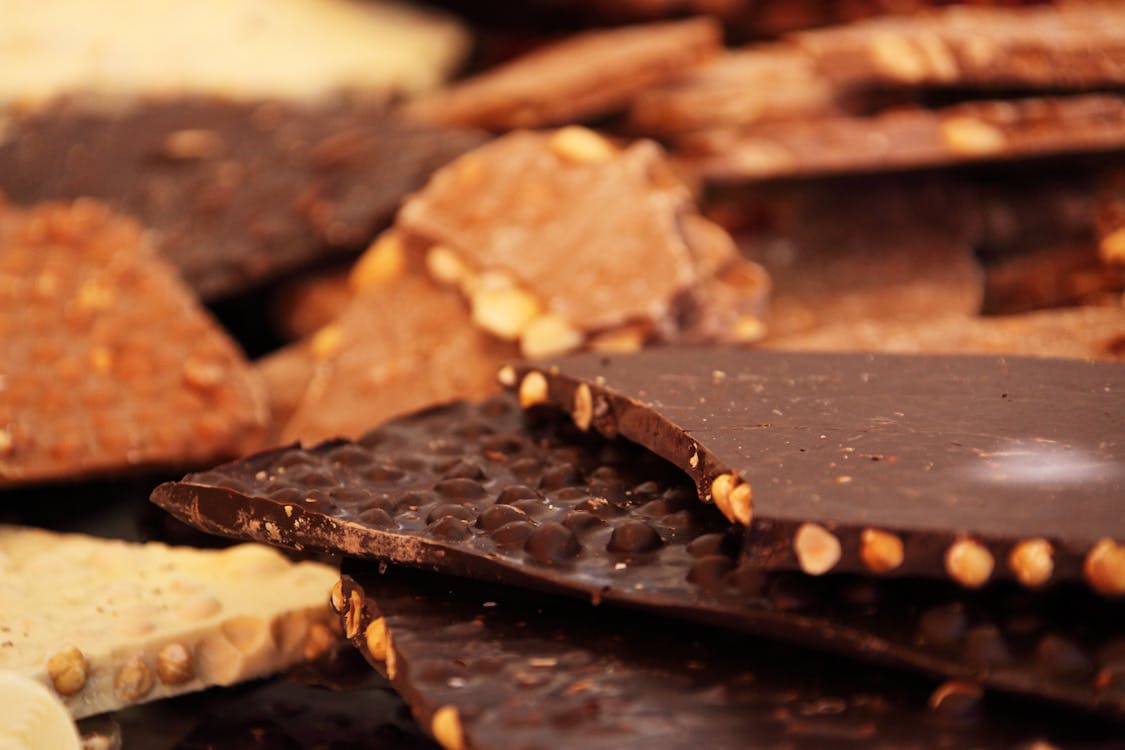 Recipe is linked above along with more ideas on these yummy treats!
Makes 3-4 cups
Ingredients:
1 (11-12 ounce) bag white, dark, milk, or semi-sweet chocolate chips (about 2 cups)
1 tablespoon vegetable shortening or vegetable oil
Various toppings (see ideas in directions)
Directions:
Line a 10×15-inch pan or cookie sheet with wax paper.
Place chocolate chips in a microwave safe bowl. I like to use a disposable paper bowl or re-usable plastic container for best results. Add shortening or oil. Heat chocolate chips on 50% power in 30 second increments, stirring between each, until melted and smooth.
Spread chocolate into an even layer on the prepared pan. Top with desired toppings. Chill to set then break into pieces.
Store in an airtight container in the refrigerator for 4 days to 2 weeks (depending on the toppings you use; candy toppings last longer than pretzels or cookies, which tend to get stale).
Ingredients
Use 1 15.35-ounce package chocolate sandwich cookies with white filling
1 8-ounce package cream cheese, softened
1 2/3 cups dark chocolate pieces or white baking pieces (10 ounces)
2 tablespoons shortening
1/3 cup white baking pieces or dark chocolate pieces (2 ounces)
Recipe: Anthony Schulz – Inn & Spa Cedar Falls, Logan, Ohio
Directions
Place one-quarter of the cookies in a food processor. Cover; process until finely crushed. Transfer crushed cookies to a large mixing bowl. Continue processing and transferring with the remaining cookies.
Beat crushed cookies and cream cheese with an electric mixer on low speed until well combined. Shape the mixture into 1-inch balls. Place balls on a waxed paper-lined baking sheet and freeze for 15 minutes or until firm.
Meanwhile, in a medium, heavy saucepan, melt the 10 ounces of chocolate and shortening over low heat, stirring until smooth. Remove from heat and cool slightly.
Use a fork to dip truffles into chocolate mixture, allowing excess chocolate to drip back into saucepan.
Place truffles on a parchment or waxed paper-lined baking sheet; freeze for a few minutes until firm or chill in the refrigerator about 30 minutes or until firm.
In a small, heavy saucepan, melt the 2 ounces chocolate over low heat, stirring until smooth. Place melted chocolate in a quart-sized resealable plastic bag. Snip a small corner of bag and drizzle chocolate over tops of the truffles.
Chill for a few minutes until set. Store in refrigerator. Let stand at room temperature for about 30 minutes before serving.
Thanks again for sticking with me on Foodie Friday; Post Valentine's Day: Chocolate Galore edition! Don't forget, if you try any of these recipes, drop your pic below! Come back next week for another surprise.