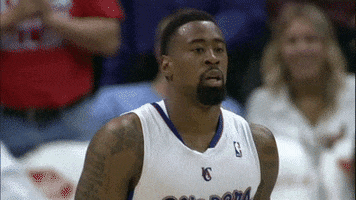 Sweet Lawwwwddd…when talented people don't practice the discipline of appropriate responses.
Have you ever heard the phrase "Son, you got too much mouth on you!?" It's often used by a parental figure, a close relative or even that of a friend. It indicates one thing — sometimes "yo a** just needs to shut up."
Here's a quick recap in the world of Chris Brown. He made headlines earlier this week after having to complete 100 hours of community service that was brought into question following the recent San Jose club shooting.
Brown's probation officer informed a judge that he believed Brown is too much of liability and that his documented choices seem to be "counterproductive "towards making progress. In other words, the boy seems to attract problematic matters more so than positives. Now granted the shooting wasn't his fault, it was carried on the strength of his name. That made Brown the centerpiece for his probation officers claims.
Those remaining hours of community service disallowed his joint tour with Trey Songz ("Between the Sheets Tour") to kick-off on its scheduled day. It would've taken place tonight (Jan. 27) in Hampton, Va. However, the concert has since then been postponed.
A fan of Brown's decided to inquire as to why the "First 48" singer wasn't readily available to stick to the schedule.
Not only was she bold in her questioning but she actually recited the date he was ordered to start serving his community service obligations.
Check out her tweet below:
Dear Chris Brown, you were sentenced 1,0000 hours of community service on 8/16/13. What were you doing between then and now? I need answers.
Brown replied with:
 Making music, jail, and trying to please you ungrateful bitcha$$ n-ggas!!!
When you're a fan of an artist, most times you may keep up with their tour dates, appearances, etc. However, whether the fan kept up or not, Brown's response was more than disrespectful. It can make one question his level of respect towards women and the authenticity of love he has for fans.
This isn't the first time Brown lashed out on social media. Last year, he took aim at both Adrienne Bailon and Tamar Braxton when they used his relationship with Karrueche Tran as an example for their topic of discussion on "The Real."
Brown apparently didn't like what he saw and read Bailon quicker than corrupt preacher asking for money during tithe and offering time. WHEW!!
He may be a talented artist who often receives praise  for being one of today's premiere male R&B acts but not everything deserves nor needs a negative response.
There's always a "way" to illustrate a point without having to use demeaning words. It's a simple matter of making a choice to differently.
Andrew Murray once said, "Pride must die in you, or nothing of heaven can live in you. "