The stars are out, and we are loving it! Whether our celebrity favorites are headed to shows for Paris Fashion Week or stepping out for friendly gatherings, they definitely stepped out in style! Balmain, Balenciaga, Lanvin, and more, Paris Fashion Week is already proving to be crazy amazing! & the street style is equally as great. But there were a few celebs that really stood out to us, and we're pretty sure that you all loved them as well!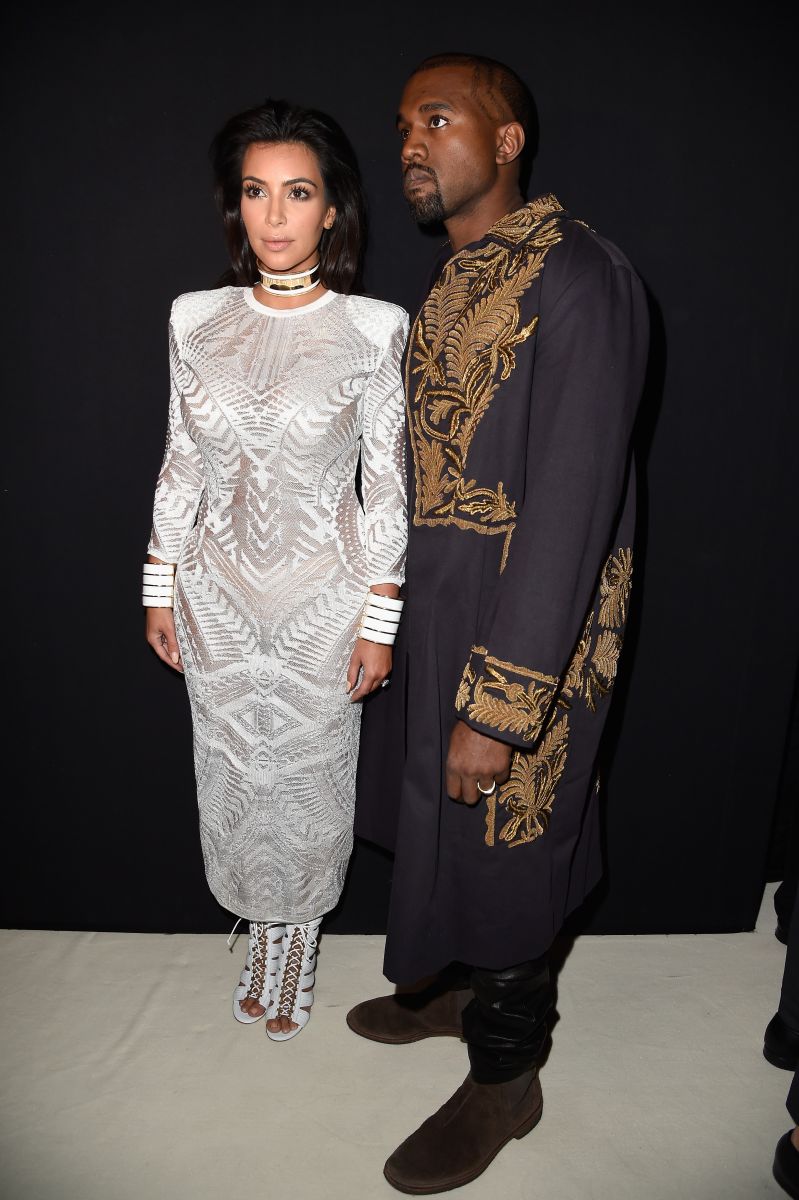 Mr. and Mrs. West stepped out in style Thursday to attend the Lanvin (above) and Balmain (below) Spring 2015 shows in Paris and looked amazing! At the Lanvin show, Kim wore an oversized tuxedo blazer with a fringe mini skirt and a leather chain belt. Kanye wore a navy silk cut-off shirt by Lanvin, black denim and suede boots.
We're a little bit obsessed with Kim's all-white look at the Balmain show. It was basically perfection! Her dress was by Balmain, of course, and she also wore a white metallic choker, over-sized cuffs, and lace-up heels to complete her look. Kanye wore a Dries Van Noten embroidered coat to the show that we love as well!
Ciara also came out to the Lanvin show, and she looked amazing, per usual! She looked super chic in a trench dress by Lanvin and sported close-toed pumps and a burgundy lip. We love this look! It's simple but still edgy. This new mom isn't missing a beat with her style!
Rihanna had a few fashion moments in New York as well! She was out and about in NYC on her way to the studio decked out in a Miu Miu coat that we LOVE! A good coat is definitely a must-have in every woman's closet! Rihanna finished off her look with a white tee, a gray beanie, dark-washed denim, and Timberland boots. She kept it cozy and comfy. This is a great fall go-to look for those chill days.
She also stepped out to have a little fun at Kevin Durant's birthday party also in New York City. She wore a patterned, cut-out jumpsuit from Balmain's Resort 2015 collection. She completed this look by layering a black moto jacket, wearing strappy black heels and a bomb red lip. We love an all-black ensemble, and Rihanna nailed this look. What else would you expect from a style icon?!
What do you think of these looks from some of our faves!? Which look is your favorite? Leave us a comment and let us know!