You see that gif? That's exactly what you'll be saying to these foods that totally mess up your beauty sleep.
Have you experienced extreme discomfort when you're finally in a deep sleep? Maybe an upset stomach, heart burn or the B.G's (Bubble Guts)? Well, it could be that late night snack you ate or a spicy dinner. Whichever it is, one of these four foods could be the culprit to all your pain.
So, here's Foodie Friday: 4 No No Foods Right Before Bed.
Pizza: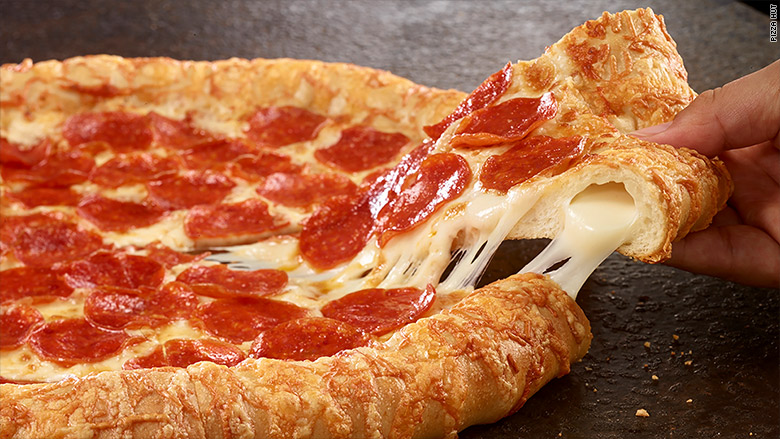 You would be surprised how much acid is in some of your favorite foods. Acid and sleep DO NOT go together well. Some foods that can affect your sleep even include PIZZA. I know, OMG moment. The tomato sauce is what really can trigger that acidic burn especially for those who suffer with acid reflux. You might want to hold off for a few hours if you really want that pizza. Here are a few more items that can cause the same issue:
Spaghetti
Lasagna
Lemon
Lime
Pineapple
Oranges
Mangoes
Candy Bars:
Do you have a fear of monsters under your bed because of a nightmare you may have had? If your answer is yes, double check what your putting in your mouth before bed and make sure it isn't chocolate! Most people who eat junk foods before bed are more susceptible to experiencing nightmares than those who do not. If you plan on having a good night's rest, you might want to pass these by.
Celery:
Now, this might come to a surprise to you. If you like to rest throughout the night without having to jump out of bed to urinate, then you might want to say no to a little celery. Although it is a very healthy snack, it is also a natural diuretic. Diuretics increase the rate of urination because they are driving water throughout the system. I personally dislike having to keep waking up to use the restroom, so save yourself the struggle of it all.
Ice Cream:
Ice cream can be a great partner in crime when you're feeling low, but it isn't always made with your tummy in mind. Ice cream is loaded with fats and if you eat it right before bed, you don't naturally give your body the time to burn it off. Along with the fat, ice cream is pumped with sugar. So, immediately your body will feed off of that and you can become a walking energizer bunny. You'll lose sleep plus gain weight because that excess sugar is stored and turned into fat. Fat on top of fat. I'll pass on that.
(Bonus)Caffeine:
Most people eat sleep and live caffeine. Now don't get me wrong, it can get you through the day if you need a boost, BUT it is not good before bed. Some are more fortunate to sleep just fine without any complications…unfortunately for the less fortunate ones, they often times find themselves tossing and turning. As a result they end up being RESTLESS.
Foodie Friday: 4 No No Foods
If you are looking for a good night's rest, avoid these foods. It's up to you if you want to test how your body may react, but I'm going to stick to the safe zone. Come back next week for another Foodie Friday update!