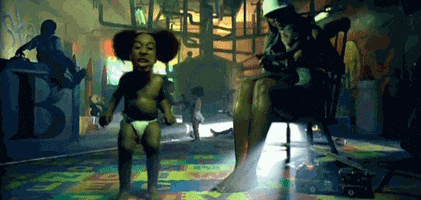 Hmmm, people are going to have to learn that "break relations" and side chick mommas isn't a wise choice.
When people decide to embark on relationships, no one really examines the unwritten rules. An argument or any discrepancy a couple faces doesn't mean you take a temporary exit, sleep with someone else and then be like "Oh, let's go together again cause I got over it now" mentality.
Not everyone will allow that to happen however; "not everyone" is Ludacris and his current situation.
Tamika Fuller, the mother of Ludacris' "break baby" Cai Bridges, testified against the rapper after he allegedly asked and bribed her to get an abortion. He supposedly believed having a baby with her would serve as a detriment to his livelihood.
Last year, Fuller claimed Luda's marriage to longtime girlfriend Eudoxie was strategically done to help him gain custody of their 1-year-old daughter.
If Luda were to gain custody, it would rule out his court-ordered child support payments of $7,000 dollars.
Fuller's testimony included:
I spent the night with him that night and the next morning I was extremely sick, I mean more than what the normal sickness would be and I was already going to the doctor for something else and it came out that, 'Well you know your issue is that you are pregnant.'
Lawyer: That was in April 2013?
Yes.
Lawyer: When did you tell him?
I told him the same day.
Lawyer: What was his reaction?
That he was not happy. He cried and he was just- well, it wasn't that he wasn't happy because he did say 'Well, you know, this isn't something that we planned. Let's move forward and get an abortion. The baby is not going to have a family, the baby is not going to be with him, living with the father in the same house.' That this is just all bad and we're going to ruin his life, we're going to ruin his career.
Lawyer: Did he ever change his mind about wanting you to have the abortion?
No, he never changed his mind. He did not.
Lawyer: Did he ever attempt to get you to have an abortion?
 He did. He gave me the money for an abortion actually. It was $900 and some change. We were having a conversation- well, when we first had our first conversation about it, he was like, I can take you back to the house. I got ten grand. I'm going to work it out. I can help you out with whatever it is you need. You need a house? We can work together.'
She added:
I just kept thinking, that was a strange direction to go in. And I didn't take his money at the time because I did not know if that was the direction I was going in. He was like 'Well, take it. I'll give you more.' And I didn't want that from him.
She didn't disclose if they had a full-on had an affair but…
As a result of the custody battle, Ludacris did win primary custody over Cai Bridges with full parental rights. Luda's defense team was able to convince a judge that Fuller's claims to make her "appear" as an unstable parent. OUCH!
A release statement from PEOPLE was given:
 "After review of all the evidence, the testimony of the witnesses, the report of the guardian ad litem, and the claims made throughout this entire case, I am gratified that the judge found me to be the most fit and proper parent to have primary physical custody of our beautiful daughter."
From a spectator's standpoint, it's easy to wonder why Fuller wasn't able to be awarded custody given her testimony incriminated Luda's character.
Basically, he had the "good woman," stepped outside of the relationship and played a little bit during the "break" which resulted in a child that he didn't initially want (according to Fuller).  It just seems anticlimactic that if we all know the possibilities of what can happen when protection isn't used, why subject yourself to that?
According to Bossip, Fuller will get 11 days of visitation out of each month with Luda parenting the remainder of the days.
"The judge said she felt they both loved the child," a source who was in the courtroom Wednesday told Bossip. The main issue "was her instability versus his stability."

The judge said Fuller's $800 a month salary as a housekeeping supervisor for a national hotel chain couldn't compare to the lifestyle her millionaire rapper baby-daddy – and his new wife, Eudoxie – could provide the tot.

During the three-day trial, the judge heard that Fuller disappeared for a few years after the birth of her eldest daughter, leading to questions about child abandonment. The judge also recommended that Fuller get a better paying job. It came out in court that Fuller's expenses are four times her $800 a month salary.

Fuller's lawyer, Lisa West, will not appeal the custody decision, sources told Bossip.

"She (Fuller) was distraught after the decision," the source said. "She's upset at the outcome, but based on sitting in the court room, and listening to the evidence, the judge made the best call."
It is possible that Luda changed his mind regarding the abortion, but at the same time, some simply may not forget that the child he was awarded primary custody over was the same one he wanted to abort.