Fellas, take notes. Safaree Samuels is teaching a course called "Ex-Etiquette."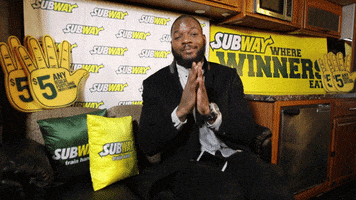 When it comes to having a "new level of respect" for a man, Safaree Samuels definitely deserves that title.
After being offered talk show appearances to discuss his breakup with Nicki Minaj, Samuels chose one of the biggest radio platforms of today.
He sat down with Angela Yee, Charlamagne Tha God and DJ Envy of "The Breakfast Club" to give exclusive details about their 14-year relationship.
Viewers learned that Samuels was the person to leave the relationship given that he felt more like an "employee" versus "Minaj's man." Samuels also admitted that he helped Minaj right her own rhymes contrary to her speech at last year's BET Awards.
Another interesting tidbit is that if Minaj is actually entertaining rapper Meek Mill romantically, it was Samuels who introduced them to each other. [pause for a brief…#SMH moment]
Lastly, for a man who knows a lot of information about Minaj, Samuels gave all the right answers without throwing anybody up under the bus.
Check out the exclusive highlights below:
On what he was during their relationship:
Everything. Decisions weren't made without me, you know that was my soul mate. People thought, 'Oh, I was just her hyper man or whatever.' Nah, me and her was the ones calling all the shots.
On how they met:
We were in a group together. It was called the Hood Starz. We did the group thing for like two years. Packed up two cars, moved to Atlanta. We just started bubbling from there.
On how the relationship evolved:
We were friends at first you know, then it turned into a relationship.
On negative commentary she's put out there about him:
I could be out here telling a million stories and doing cornball sh*t like that, but I'm not gonna do that. I never would do that. I just think it's crazy for her to come out now…Who you with, that don't mean nothing to me.
On who really walked away from the relationship:
I walked away. I'm the one who packed my stuff.
On the real reason the relationship didn't survive:
It just got to the point where the respect was gone. You know, I don't want to get too deep into all of that. It's just everyone around her works for her…It got to the point where it was like, I'm your man, I'm the one you go to sleep with every night. I'm who you wake up with every morning. It got to the point where, I was being treated like an employee. Instead of like her man. After a while, I'm like 'alright'.
On the reason as to why the relationship was kept a secret:
I didn't understand that…To me, I'm like there's no way people don't really know. I just never understood that.
On the kiss with Wayne and lap dance with Drake ever bothered him:
Nah, because I really was just like so numb to all of that. So it was like, it is what it is. She, nobody can't do nothing that's gonna hurt me….I definitely feel like there was some stuff that didn't have to be done.
On introducing Minaj to Meek Mill:
Yeah, but if that's who she decides to move on with then, it is what it is. I'm not mad, I'm not bitter cuz if I wanted to make it work, I could've made it work.
On Minaj throwing jabs at him:
Don't say, 'Oh I don't have no talent.' Every time it came to writing raps and doing music, it was me, her and a beat. She doesn't do it by herself. Don't discredit me for what I've done with you. That's weak.
On helping Minaj with her pen game:
Yo, everybody gets help and there's nothing wrong getting help. I'm not saying I'm biting, I'm not saying I'm the originator, this is something me and her did together. And that don't take away from what she's done. She's still the top of her league.
On if he was friends with Meek Mill:
He don't owe me nothing. He wasn't a childhood friend. Hey, it is what it is. I take the approach, I knew everybody wanted her..Everybody tweets about her.
On rumors about him cheating on Minaj:
I was at the wrong place, at the wrong time. I do admit that. But what the girl is saying, there's no truth to that. Our probably really isn't about cheating, it's just about outgrowing…
Check out the full interview below:
https://www.youtube.com/watch?v=cbScUnLxOk8
Samuels earns cool points for this one because some men don't choose the high road when it comes to discussing an ex. His answers seemed carefully thought out before speaking and viewers can tell that he really has  love for Minaj. When credit is due, it should be given.