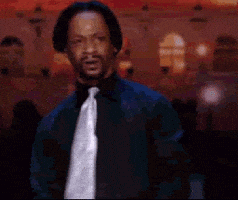 With Valentine's Day around the corner, some people have no problem reflecting on bad dates or being stood up during #SingleAwarnessMonth.
When we get left behind for a pending date, the guess is that our ego's get temporarily bruised. What's worse is when the person who asked you out acts cavalier towards your feelings.
Take the case of Sherri Shepherd…
The woman who thought the earth was "flat" made a pit stop as a co-host on the female driven show "The Real." It was there that she shared one of her experiences about being stood up by comedian Katt Williams.
She claimed that Williams asked her out on a date to go golfing and after making a purchase on golf clubs, shoes —the whole nine—ole-buddy failed to make an appearance after confirming.
When Williams didn't call Shepherd back on his own to tell her, "Look, I done had a change of heart so let's 86 this," Shepherd grabbed her friend Niecey Nash to do a drive-by. Now that's how you know someone cared about going out. #SMH
Keep in mind, the segment was about bad dates so Shepherd's story doesn't "appear" to be a reflection of "angry woman" syndrome.  It was funny, no less.
Checkout her words and the clip below:
 "There was another comic, his name I should not mention because he's huge now. This was just a date. He asked me if I wanted to go golfing. I don't golf. So I went out and bought a whole set of clubs. I bought the little sun visor. I bought a special golf wig. I bought the shoes, everything. He confirmed and everything. I sat there all day and waited, and waited, and waited. So I called my girl, Niecy Nash, she was working on Reno 911. I said, 'We going over there, I'm going to bust all the windows out of all eight of his cars!'
On what she did after Williams allegedly didn't show:
He stood me up, so she came over and we got in the car and she was like, 'Diva do you really want to? It's bad publicity!' I was like, 'Any publicity is good publicity. We about to climb over the gated community fence and we're going to tear up his gate!' So we got there. Here's the problem with trying to get over gated community walls: They're too high. I think I got arthritis in my knee cause I tried to jump over the wall and it wouldn't work. Niecy and I, we ended up going back for drinks."
On running into Williams again after the "non-date":
"He said he was going to have the plane pick me up and take me golfing! I got stood up. I took the clubs back, I took the golfing outfit back, I took the visor back. He acted like he didn't stand me up! I said, 'What happened?' He was like, 'I didn't stand you up! I didn't stand you up!' He said it just like that!"
Shepherd's love life includes two failed marriages. She filed for divorce last year from her second husband Lamar Sally.
However, she was all smiles while adding humor to her unfortunate experience.  It was great to see her get a kick out of reminiscing. SN: She's probably low-key still mad at that to…but that's just a guess.
To some, it may not be "that deep" to stand someone up however; what we give out, we get in return.